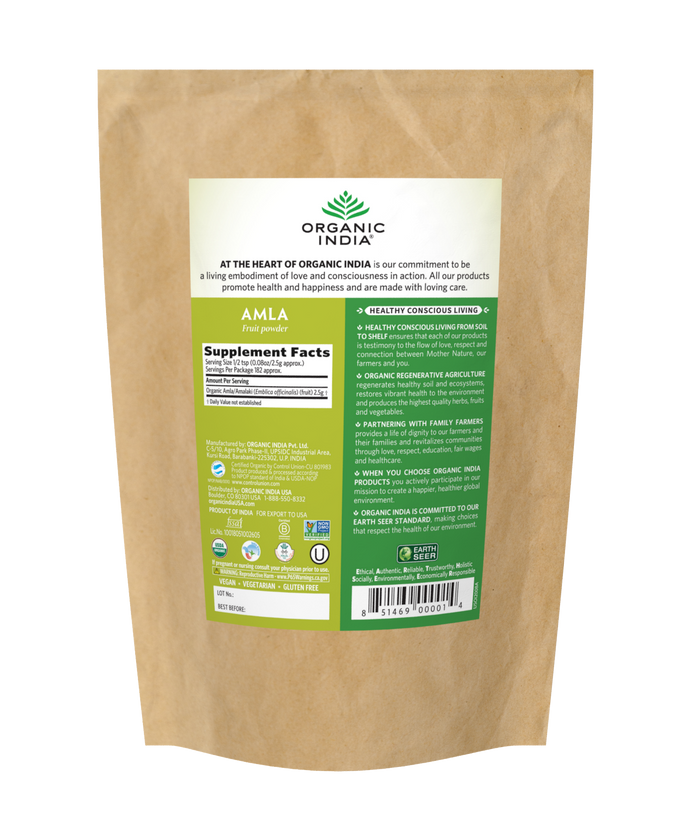 Amla Benefits
1
Immune Support
The nutrients and bioactive compounds in Amla help support immune function and keep you feeling your best through all changing seasons.
2
Detoxification
Amla contains phytochemicals and antioxidants that help fight free radicals, protect longevity, detoxify the body, and preserve skin health.
3
Adaptogen
Amla is categorized as an adaptogen, meaning that it supports the body's healthy response to environmental, physical, and emotional stress.
4
Heart Health
Amla can help tonify the heart, support cardiovascular health, maintain healthy blood pressure, and support healthy cholesterol levels.
5
Wildcrafted
ORGANIC INDIA Amalaki is harvested from forests that are designated as organic environments by the government of India to ensure wild Amalaki trees are protected from environmental pollutants and over harvesting.
Amla: An Ayurvedic Superfood
Thousands of years before the Nobel Award winning-scientist Linus Pauling produced evidence for the healing powers of vitamin C, Ayurvedic doctors were using Amla — often referred to as Indian Gooseberry — as a curative. Amla is among the most antioxidant-rich foods produced in nature. The berry has been studied for myriad benefits and uses, including boosting immunity; defending against oxygen-robbing free radical cells; potentially slowing the aging process.
Read More